Would like to introduce to you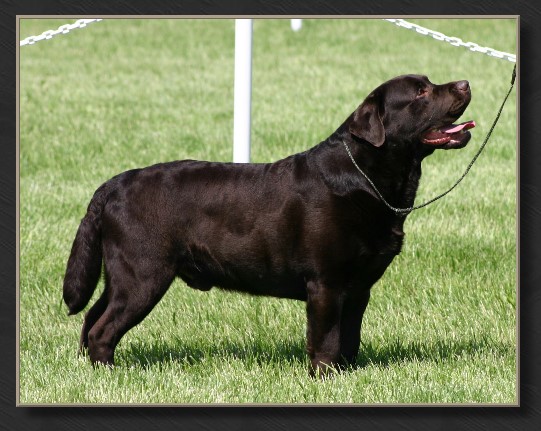 Gregoires LastCast Off Dock (C)

"DOCK"

D.O.B. 2/18/2005

Registration # SR24397001 * OFA Hips Good * OFA Heart Normal * Eyes Cerf Annually /

OptiGen A1 (normal / clear ) Weight: 96 lbs.
Dock has developed into a typey, handsome dark chocolate Labrador .
He has a lovely outgoing temperament, bone, topline, nice forechest, reach of neck and a thick double coat.
Dock catches your eye in the show ring with his big smile. Watch for Dock at the fall shows and Specialities .
Some of Docks notable wins
2nd place Open Chocolate Dog / Winebego Specialty under Michael Lanctot.
MVLRC Specialty 1st Open Chocolate under Mrs Diane B. Jones (Jollymuff)
HLRC Specialty 1st Open Chocolate Both days/Barbara Gilchrist and Guy Spagnolo
Thank you for recognizing Docks qualities
Pedigree

NZ. &Int. CH. Croftsway Old Man River (BC) normal clearances hips/elbows/eyes/heart /Optigen A1
ENG. CH. Cambremer Tom Cobbley Of Charway (UK)
SH. CH. Charway Uncle Tom
SH. CH. Cambremer All That Jazz
Croftsway Xpress Bug
S. NZ. CH. Driftway Moonlite Express (imp-Aust)
Croftsway Scuttlebug
Gregoires Very Berry (c) OFA Good Hips /elbows /eye cerf
Epochs Edward of Bonaventure (c) OFA hips Good /elbows/eye cerf
Keepsakes Beau Webster
Banners Apple Butter
Gregoires Nugget Delight (c) OFA hips Good /eyes cerf
Bonaventures Noble Statesman
Gregoires Cinnamon Toast
At Stud with :

Co-owner/Handler

Dale Brummett
Black Rock Labradors

317-508-9443